This is a Sponsored post written by me on behalf of Walmart and Walmart Foundation. All opinions are 100% mine.
As a stay at home dad who had a great mom as an inspiration for just how difficult it is to raise the children and a wife that supports our family so that I can stay home, I have found Mother's Day to be an extra special celebration for my family. My wife works extremely hard to provide for our family so we spend extra time finding ways we can show our appreciation.

With Mother's Day coming up, it is a great time to prepare your kids for expressing that love. Our kids especially love to make that extra effort on those mornings preparing breakfast for her in bed. But, when it comes to finding the right gift for her, that can be especially hard as taking all three of them to a store and asking them "What can we buy mom for Mother's Day?" can result in anything from jellybeans to a socket wrench.
Now, WalMart makes it easy for us by offering a selection of great gifts for the special women in your family through Walmart's Empowering Women Together program. To help shopper's give a gift with meaning this Mother's Day, Walmart's Empowering Women Together program is offering products made by small women-owned businesses that range from scarves and aprons, to chocolate sets and cards.
Walmart is reinforcing its commitment to empower women by expanding the availability of products made by small women-owned businesses from online in to more than 2,600 Walmart stores just in time for this year's Mother's Day shopping.
One of the great draws for me staying at home is that the products will be available both online and in stores. As always with WalMart, the option to ship to store is a timesaver if you have waited too long and are stuck.
By purchasing one of these products, you lift and empower the women behind the scenes to create new jobs and improve both their own lives and the lives of their families and communities.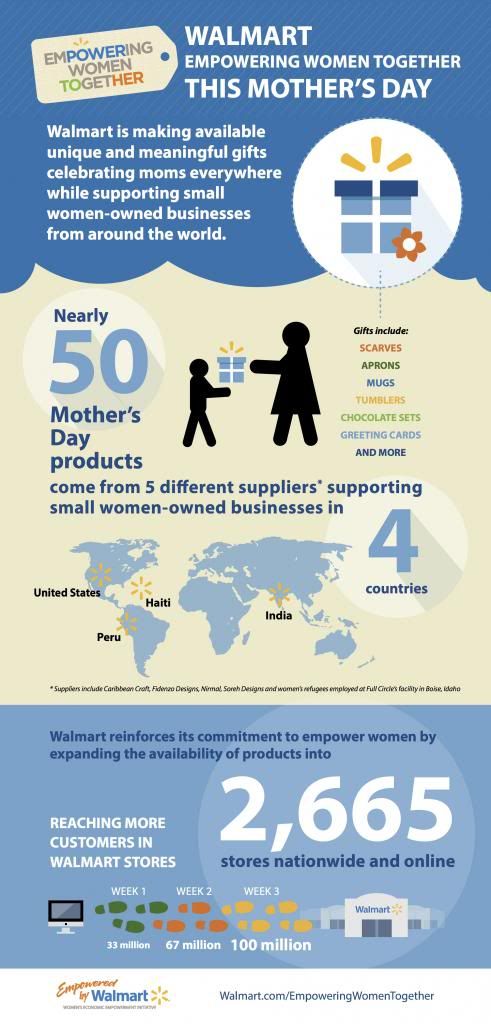 My kids were excited to be a part of the gift shopping process. With so many great items to choose from, it was easy for them to pick something that was meaningful to them for their mom that wasn't completely guided by me. I told them they could browse through the page and click on the images to take a closer look. My daughter was quick to point out the best styles and my son was insistent on a fair price. It turns out that they have really good taste. That must be all of dad's influence!
To buy these great products for the mother in your life head to
Walmart's Empowering Women Together
and shop online or in stores today.